This article 'Bowie for beginners' answers some of them most asked questions about David Bowie. David Bowie was one of the world's most influential and ground breaking musician. He was the man behind Ziggy Stardust and Aladdin Sane. If you have never heard of David Bowie, here is a run down of this music icon.


Who's is David Bowie?

David Bowie, born David Robert Jones was an English singer-songwriter and actor. A leading figure in the music industry, and regarded as one of the most influential musicians of the 20th century.


When did David Bowie die?

Wondering when did David Bowie passed away? David died on 10th January in 2016 at his home in New York City, US. He had just turned 69 and just released his 25th studio album, Blackstar.


What did David Bowie die of?

David Bowie died due to Liver cancer. Sadly, he only discovered his cancer was terminal three months before he died.


Who was David Bowie married to?

Bowie met his first wife Angela Barnett in April 1969. They married on 19 March 1970 at Bromley Register Office in Bromley, London. They had an open marriage and a son Duncan, was born on 30 May 1971. Bowie and Angela divorced on 8 February 1980 in Switzerland with Bowie getting custody of their son.

More than a decade later Bowie married Somali-American model Iman in a private ceremony in Lausanne on 6 June in Florence. They had one daughter, Alexandria Zahra Jones (Lexi), was born 15 August 2000.


Who are David Bowie's Children?

Duncan Zowie Haywood Jones is the son from Bowies first marriage to Angela. He is a British film director, producer and screenwriter. Best known for directing the films Source Code, Warcraft, Moon and Mute.

Alexandria Zahra Jones is his daughter from second marriage to Iman. She is carving out a career in the art world after turning down offers to do modelling.


When did David Bowie play Glastonbury?


Many people ask how many times did David Bowie play at Glastonbury.  The answer is 2.  He performed at the second ever Glastonbury festival.  It was at Michael Eavis's farm in Pilton, Somerset, between 20 and 24 June 1971. The majority of songs performed were from Bowie's recently released album Hunky Dory. His second venture performing at this iconic festival was 29 years after his first appearance.  He headlined the festival on 25 June in 2000.


Are David Bowie vinyls worth anything?


Many people ask are David Bowie albums worth anything? Yes some of the rare vinyl's can fetch hundreds, even thousands. The first LP released by David Bowie in 1967 on the Deram label is extremely rare. Collectors will pay up to £2000 for a copy of the mono or stereo vinyl. There a limited editions of the 'preview' edition of fourth album Hunky Dory. It comes in a white sleeve with typed track listing and hand-written details stating 'David Bowie Hunky Dory Preview Pressing 19 October 1971'. Its very difficult to find, hence why Bowie collectors will pay around £5000 for a copy. So if your wondering what David Bowie albums are worth money, its the rare first editions mainly.


Why David Bowie changed his name


At that time, there was already another musician of the same name, Davy Jones from The Monkees. The Monkees were very famous so he changed his name initially to Tom Jones. He didn't realise there was a welsh singer with that name, so in 1965, David Jones changed his name to David Bowie in homage to Jim Bowie. Jim Bowie was the protagonist of the 1960 historical war film The Alamo, directed by John Wayne. The rebel character was played by actor Richard Widmark.


How David Bowie changed music


Bowie brought showmanship and theatricality to rock music. He took on alter egos such as Ziggy Stardust, Aladdin Sane and the Thin White Duke. He often wrote songs about being an outsider. He appeared as an alien, a misfit, a sexual adventurer and an astronaut. He was the King of Reinvention (long before Madonna), his creative re-inventions continued until his final album, Blackstar.
Music producer Nile Rogers said Bowie was "the Picasso of rock'n'roll". "He saw the world in an abstract way, as well as in the way we all see it," and "he wanted something that would always look modern".

n 1970, he released his third album "The Man Who Sold the World." On the cover of the record was David reclining on a chaise longue with long wavy hair and wearing a long velvet dress and block-heeled suede boots, the look was deliberately androgynous. It was shocking at the time and the phrase 'man dress' was born.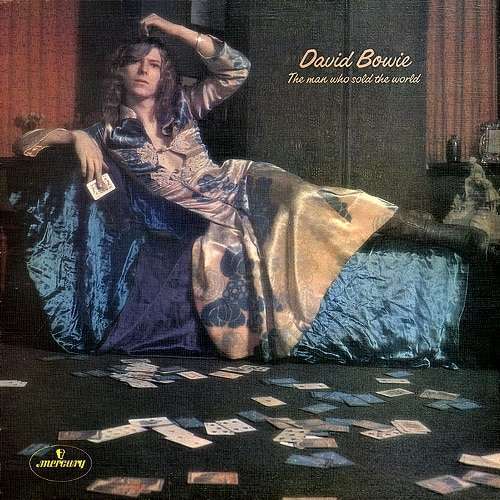 He was apparently ridiculed by the general public on the street. As controversial as it was at the time, it was the start of the change for men. Men could ware makeup, dresses and pout. I am sure the young Dominic from Yungblud wouldn't be prancing around on stage in a dress if it hadn't been for Bowie. I for one am happy about that.



Bowie fused science fiction and popular culture. His first hit Space Oddity at the same month Neil Armstrong walked on the moon struck a nerve with people. He also moved into movies with his roles in films such as The Man Who Fell to Earth, Labyrinth and Stardust.~


What Films was David Bowie in?

David was in a number of films over the years. This is some of his films but not a conclusive list. First he was in a short film called 'The Image' where he played the boy.  That was in 1969 and the same year he featured as a soldier in 'The Virgin Soldiers'.

In 1970 he was in Pierrot in Turquoise or The Looking Glass Murders. 6 years later in 1976 he played Thomas Jerome Newton in 'The Man Who Fell to Earch'.  Next was the film 'Just a Gigolo' in 1978. 'The Hunger', 'Merry Christmas, Mr Lawrence' and Yellowbeard came out in 1983.

'Jazzin for Blue Jean' was next in 84, then in 85 he stared in Inter the Night. In 1986 he started in 'Absoute Begginers' and 'Labyrinth'. In 1988 he stared in 'The Last Temptation of Christ'. 'The Linguini Incident' came out in 1991, 'Twin Peaks: Fire Walk with Me' came the next year.

In 1996 he played Andy Warhol in 'Basquiat. In 1998 he was in Gunslinger's Revenge as Jack Sikora. Next he was in 'Everybody Loves Sunshine in 1999 where he played Bernie. The milenium saw he in a short filmed called 'Empty' and also 'Mr Rices Secret'. The following year 'Zoolander' came out where he play himself. This got him nominated for a MTV movie award for best cameo.

He also played him self the next year in 2002 in'The Rutles 2: Can't Buy Me Lunch'. In 2006 he played Nikola Tesla in 'The Prestige'. The next year he played Emperor Maltazard in 'Arthur and the Invisibles' Next up the film 'August' where he played Cyrus Ogilvie. And he played himself again in the feature film 'Bandslam' in 2009.


David Bowie Tour
David Bowie was one of the most influential and innovative musicians of the 20th century. His unique style and powerful stage presence made him an icon of pop culture, and his music continues to inspire fans around the world. If you're a fan of Bowie, why not take a tour of the locations that shaped his life and career?

A David Bowie location tour is a fun and exciting way to learn about the legendary musician. By visiting the places where he lived, worked, and performed, you can gain a deeper understanding of the man behind the music. From his childhood home in London to the stages where he performed his greatest hits, these locations offer a glimpse into Bowie's life and legacy.

One of the highlights of a Bowie location tour is visiting the musician's childhood home in the Brixton neighborhood of London. This is where Bowie was born and raised, and where he first began to develop his musical talents. The house itself is a simple, unassuming brick building, but it's surrounded by street art and murals that celebrate Bowie's life and legacy.

Another important stop on the tour is the historic Roundhouse venue in London, where Bowie performed many of his early concerts. This historic venue was one of the first places where Bowie showcased his unique style and musical vision, and it's still a popular destination for music lovers today.
For fans of Bowie's later work, a visit to the legendary Berlin Trilogy recording studios is a must. These studios were the birthplace of some of Bowie's most iconic albums, including "Low" and "Heroes," and they offer a fascinating glimpse into the creative process of one of the greatest musicians of all time.

Finally, no Bowie location tour would be complete without a visit to the iconic Ziggy Stardust mural in the East End of London. This massive, colorful mural pays homage to Bowie's legendary alter ego and celebrates his enduring legacy.

Whether you're a lifelong fan of Bowie's music or just a curious traveler, a David Bowie location tour is a fun and exciting way to explore the life and legacy of one of the most influential musicians of all time. So why not book your David Bowie London tour today and immerse yourself in the world of David Bowie?