London is famous for renowned historical places and spots that are top inclusions for tourists worldwide. When we highlight music history, London comes to our mind because in the 20th century. There are many music bands and hit songs that were released which have been liked around the world.
Beatniks, Mods and Rockers, Heavy Metal freaks, Hip-Hoppers, and rappers have rooted in London rock n roll.
Soho is the West part of London which comes under Westminster city. This site is full of music from the 19th century. There are thousands of stories waiting for tourists to learn more about their favorite singers and artists. We have covered all the important points, stories, and places that you can visit when coming to see the London Rock Tour.
Rock Tour London
Denmark Street in London was once the hub of Britain's music industry. Elton John, David Bowie, the Kinks, Rolling Stones, Sex Pistols and many, many more each have a story to tell about this street. For many decades this London location was home, in some cases literally, to London's music scene.
Our classic tour will take you to venues where many Rock-Gods first cut their teeth and developed their sound. One clue which is often classed as the most important venue in the history of modern music is the former Marquee Club. You'll also pass by the world-famous Ronnie Scott's Jazz Club, a Mecca for jazz musicians. The club's founder, Ronnie Scott was awarded an OBE for 'services to jazz' and this buzzing venue is still the place to go to see rising stars in the music industry.
Not all locations are quite as glamorous, you will see the cramped basement where Led Zeppelin first rehearsed. You'll also be shown where 'Werewolves of London' go to get a dish of beef chow Mein, in the rain. Many people don't realise that Warren Zevon was singing about a real Chinese restaurant in Gerrard Street!
London has so many unassuming little doors, hidden down alleys, and gem locations that even local londoners know nothing about. On tour your guide will be pointing out lots of interesting facts about these locations. Anecdotes about some of the biggest names in music including the Beatles, Jimi Hendrix, Queen, T-Rex, the Bee Gees, Genesis, Tina Turner, the Smiths, and many more.
Legends the Rolling Stones chose Carnaby Street for the location for their world-first flagship store. So if Carnaby Street is good enough for the Rolling Stones, then it's good enough for us to visit on our tour. From the Swinging 60s to the New Romantics, Carnaby Street has attracted the Carnabetian Army. There are some great independent boutiques if you are looking to find unique gifts and keepsakes.
This tour also includes the site where Jimi Hendrix got furious and burned his guitar. Jimmy Page also cut his first disc, and the death of  Amy Winehouse took place in this area near of London. The place where Paul McCartney is living near Soho. The place looks mesmerizing and enriched with music history and produced many artists, and still many are spending their lives here.
Our London rock tour will take you on a tour of all the locations important to the music history. Locations where tracks were recorded, filmed during the 60s to 90s.
Chinatown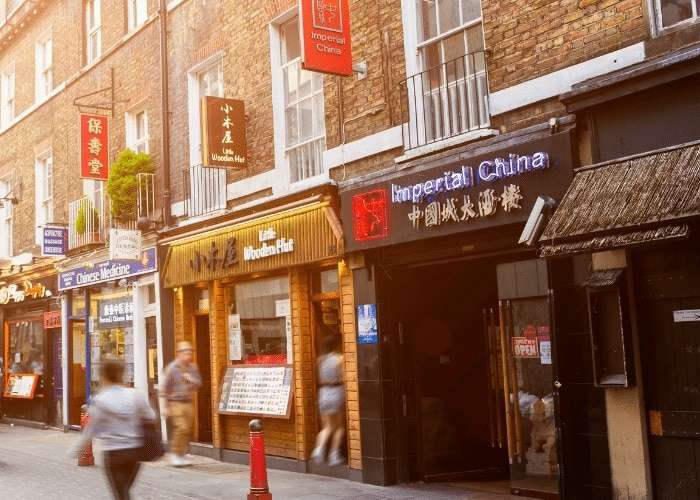 Chinatown has a long history in London, but it has been shifted to Soho after the 70s. The location is very tiny but infilled with food spots, restaurants, supermarkets, and Chinese shops. If you are a food lover, there are many sweet things to eat in Chinatown.
But there are surprising celebrations during the Chinese new year with parties, music, and other ceremonies when you visit during this particular time. You can stay longer If you love Chinese dishes and culture.
Oxford Street
Oxford is the central location of London where different shopping brands have markets and stores. It's particularly famous due to having many underground stations. The residents of London prefer this area for shopping because here you can find the things that you like even within your budget. The rates and things are varied according to the standards of people coming from all over London.
As a tourist, you may find something special which can make your day perfect. Boutiques, luxury brands, and Primark shops are present for the shopping.
It's a source of knowledge about London's heritage, culture, and tradition located in Soho. When you search for a standard room in London, Trafalgar square comes, built in the 19th century. The square is special for parties, public gatherings, protests, and other celebrations. You may find your taste at this place to appease your mind during a rock tour of London.
Music Studios
As you know the rock n roll area of London is very much special for music lovers. There are theatres, musical studios, and recording studios where most classic songs were recorded, edited, and filmed.
You can still find some singers and musicians who will sing for you. Imagine listening to classical guitar music in front of the camera filming this memorable scene to save for future moments to remember.
Denmark Street has a lot of contributions to music by recording and editing demo music. It's where Reginald Dwight worked as a depict messenger and where  Elton John got fame as a superstar all over the globe.
Join the fantastic guide of us to visit the best places of the centuries containing London's culture, arts, and music backbone. Soho has many places to visit to capture the heritage of London and its tradition. Various superstars had worked here, and currently, there are still many studios where musicians are recording, editing, and releasing classical music songs for music lovers.  
The Classic London Rock Tour Of Soho