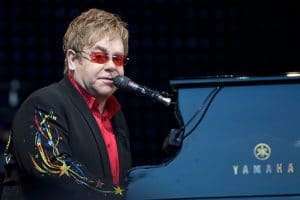 Here we take a look at the best duets from Elton John.  Sir Elton John has never been shy of a collaboration. In fact, some of his most enduring hits have featured another vocalist. Elton's first hit collaboration occurred way back in summer 1976 when Don't Go Breaking My Heart bagged the top spot.
Since then, the iconic star has scored hits with John Lennon, George Michael, Eric Clapton, RuPaul, Luciano Pavarotti, LeAnn Rimes and Tupac Shakur. During the early 2020s, he has collaborated with acclaimed contemporary artists including Lady Gaga, Years and Years and Rina Sawayama.
Let's take a look at the story's behind Sir Elton's biggest collaborations right now.
Don't Go Breaking My Heart (with Kiki Dee) (1976)
Don't Go Breaking My Heart was penned by John and his usual lyricist Bernie Taupin under the pseudonyms "Ann Orson" and "Carte Blanche". The Motown-inspired classic was compared to collaborations by the likes of Marvin Gaye. Although Dusty Springfield was originally intended to appear on the song, she was too ill to add her vocals. The original version of the song never actually appeared on an Elton studio album but has featured on numerous compilations.
Another John-Dee collaboration, True Love, reached #2 in 1993. A version of Don't Go Breaking My Heart featuring RuPaul reached #7 a few months later. Both singles were taken from the 1993 album Duets, which also featured tracks recorded with k.d lang, Little Richard, Tammy Wynette, Little Richard and many more. You can watch the "Don't Go Breaking My Heart" video here.
Don't Let The Sun Go Down On Me (with George Michael) (1991)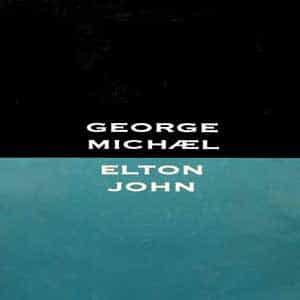 This is another one of our chosen best duets from Elton John.  This track first appeared on the 1974 album Caribou, reaching #16 when released as a single in the UK. However, it became a much bigger hit when a live version recorded with the late George Michael was released as a single in 1991. This version was a UK and US chart-topper. The pair first performed the song together at Live Aid at Wembley in 1985, but this version was taken from Michael's solo show at the same venue six years later. The proceeds from the single's sales were given to charities raising money for education, AIDS and children.
Stan (2001) (with Eminem)
Elton and Eminem's 2001 Grammy Awards performance of Stan was controversial as the rapper had frequently been accused of homophobia in the past. This rendition was never released as a single but was made available on Eminem's 2005 hits compilation, Curtain Call. Elton and Eminem have remained friends over the years, with the former claiming the rapper was "never homophobic" but simply "misunderstood" and "misrepresented". Referring to some of Eminem's lyrics, he said "' I thought, 'how could anyone think this is [what he really thinks]'? He's just writing about the way things are. Not how he thinks, but the way things are."
Ghetto Gospel (with 2Pac) (2005)
Ghetto Gospel became a UK #1 over eight years after Tupac Shakur's 1996 death. The track sampled Elton's 1971 song Indian Sunset and was produced by Eminem, who the singer performed with at the 2001 Grammy Awards. The original version of the song was recorded back in 1992 but was never released. This version featured a sample of Tracy Chapman's Crossroads rather than Indian Sunset. The track's lyrics were an outcry against street violence and paid tribute to black activists including Malcolm X. Elton described Eminem's production work on the song as 'genius'. It gave Elton his seventh UK chart-topper.
Sine From Above (with Lady Gaga) (2020)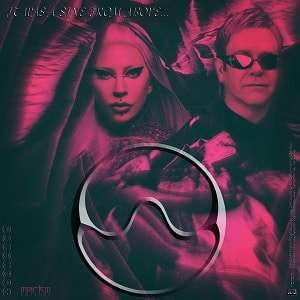 Sine From Above was taken from Lady Gaga's hugely successful sixth album Chromatica. The dramatic electro-pop track featured an abrasive yet thrilling drum 'n' bass section, with its lyrics discussing music's healing powers. Gaga and Elton first recorded together on Hello Hello from 2011's animated movie Gnomeo & Juliet. They also appeared together at the 52nd Grammy Awards and the Muppets Holiday Spectacular Special. Your Song and Bennie and the Jets were performed during these events. Gaga covered Your Song for 2018's Revamp album, a tribute to Elton John and Bernie Taupin. She has described Elton as "her mentor for a long time".
Chosen Family (with Rina Sawayama) (2021)
Chosen Family originally appeared on Rina Sawayama's debut album Sawayama before it was reworked with Sir Elton and released as a single. Famed for his ongoing interest in new music and support for young artists, Elton defended the British-Japanese singer after she was denied the chance to feature in the 2020 Mercury Prize shortlist. Sawayama was declared ineligible for the awards as she was born in Japan. However, she has lived in the UK since she was a young child. This was later overturned. Sir Elton named Sawayama as one of his favourite 2020 albums.
The track's lyrics discuss the common LGBT+ concept of 'choosing your own family', with many community members sadly being shunned by their original families due to their sexual preferences and gender identities.
It's A Sin (2021) (with Years and Years)
One of the the best duets from Elton John, and most recent, is when Elton performed the 1987 Pet Shop Boys smash It's A Sin with Years and Years' Olly Alexander at the 2021 BRIT Awards. This version was then released as a single, giving the singer his 85th top 5 hit. The Pet Shop Boys were set to join both acts on stage but were unable to do so due to contractual reasons. The performance took place following the success of the hard-hitting AIDS drama of the same name, which starred Alexander. In 2006, the Pet Shop Boys and Elton released a version of a 1989 single the synth-pop duo wrote and produced for Dusty Springfield, In Private.